We've moved to www.cupcakesandcutlery.com - you'll be redirected to this post in a moment.
Do you know Ashlyn and Heather? Well, neither do I. Sure I've seen their amazing creations around online. But have I ever met them in person? No. But I took a chance and reached out to them one day and they graciously indulged me. You see, I heard a song on the radio and it screamed wedding. But just as soon as my head started planning an appropriately themed event based on the tone of the song, the name
Carter & Cook
popped in there too. Who better to do a wedding inspiration board? Based on their past work, I felt they had the perfect balance of joy, whimsy, class and fun to create a memorable event from this song. So here you go, a special wedding treat for my readers....
I love what they put together so much! I mean, there are only 3 years until my 10 year anniversary vow renewal. Could this be my inspiration?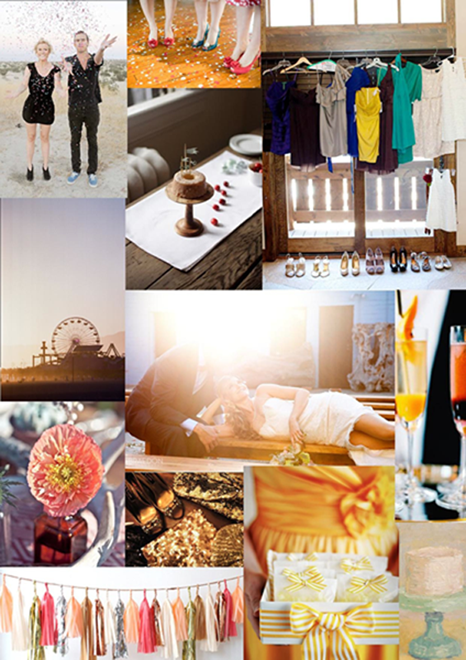 In Ashlyn's words:
"Since the song is upbeat and super joyful, I wanted the inspiration board to be fun while emanating a warm, fall like feel. The song is great and screams celebration! Lots of confetti, color, glitz and glam should be used at the wedding...after all, it is a party isn't it? My favorite photo is the center photo of the bride looking up at her husband into the warm glow of the afternoon. Definitely captures the feel of the song, "You always make me smile."
Photo Sources (from top to bottom):
Signature Cocktails - Unknown
Gold Sequins - Unknown
An unbelievably HUGE thank you to Ashlyn of
Carter and Cook
for playing with me. I truly appreciate that you took the time to put this gorgeous inspiration board together.
One happy Sharon, signing out.
P.S. totally learned about the cool song widget thingy from
Hi Fi Weddings
. :)