We've moved to www.cupcakesandcutlery.com - you'll be redirected to this post in a moment.
I don't know about you but I am really enjoying this inspiration board challenge. It has really given me an opportunity to meet some fabulous blogging ladies and to find some fun inspiration pieces to inspire them. A lot of us don't get the opportunity to put mood boards together so it is fun to have the chance. I was so excited to see what Kori of
Paper and Pigtails
would come up with. And when I saw it, I knew I had to post it early! I think it turned out so great and is another really creative way to do Halloween.
There are so many ways a party could go based on this amazing
non-traditional Halloween pillow
. You can't help but get excited at the potential awesomeness of the board! And it doesn't disappoint!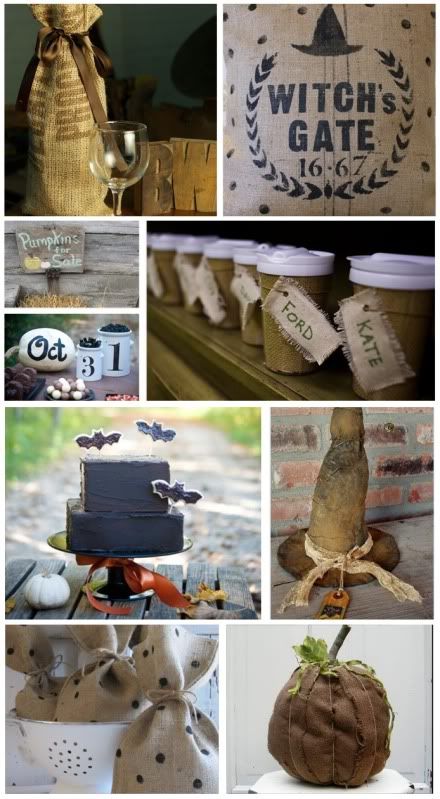 Are you loving this as much as I am? I am beyond thrilled with what Kori came up with. This is such a sophisticated yet rustic party but could easily be kid friendly.
Photo Sources:
HUGE thank you to Kori!!! I adore you! :)
And as I look back at my posts for the week, they all were about food or drinks!!! Totally wasn't planned, but it happened. And then I saw this great Halloween inspired recipe that I think would go so well with Kori's party. A sort of creepy Panna Cotta. Elevated for an adult's palate but themed. And it kind of sounds super easy to make...should I attempt it?
Brains! Panna Cotta recipe is courtesy of Chef Richard Ruskell, Executive Pastry Chef of the
Montage Beverly Hills
.
Ingredients:
4 cups heavy cream (or half-and-half)
1/2 cups sugar
2 tsp vanilla extract
2 packets powdered gelatin (about 4 1/2 tsp)
6 TBSP cold water
1 pint fresh raspberries
1 TBSP sugar
To make:
Heat the heavy cream and sugar in a saucepan or microwave. Once the sugar is dissolved, remove from heat and stir in the vanilla extract.
Lightly spray 8 custard cups with a food release spray.
Sprinkle the gelatin over the cold water in a medium sized bowl and let stand 5 to 10 minutes.
Pour the very warm Panna Cotta mixture over the gelatin and stir until the gelatin is completely dissolved.
Divide the Panna Cotta mixture in to the prepared cups. Then chill them until firm which will take at least two hours; its recommended to let them stand at least four hours.
To Serve:
Put the fresh raspberries in a bowl and add 1 TBSP sugar and crush the berries.
Remove the Panna Cotta from the refrigerator, flip them out into bowls. Add the berries and loosely mix the custard with the berries (so it looks like...brains!!)
MMMMMMMmmmmmmm!
Check back on November 1 when I reveal the November Inspiration Board Challenge participants!!!
Sharon